In Krakow, markets are more than just places to shop for groceries — they're places to meet up with friends, to catch up on gossip, to eat, and to discover great Polish treats, products, and more. They've also shaped much of Krakow's history, and that's why you can't visit this city without exploring at least one of the city's markets. These three, all located within the city centre, are definitely worthy of a a visit.
Kleparz
Kleparz is the oldest marketplace in Krakow, about a 10-minute walk from the Main Square (Rynek Główny), at the corner of Slawkowska Street. The neighbourhood of Kleparz used to be its own city, but today has been amalgamated into Krakow and the market is one of the most popular places for locals to shop.
The name dates back to medieval times, referring to "klepac" (beat/bump), which today translates to "making a business deal as a result of good negotiation." In those days, it was mainly horses that were sold in the market and a "klepanie" deal could be signed with a simple high five or by touching the animal's rear end.
The Kleparz market is open every day except Sunday, and the best time to come is in the early mornings, when farmers arrive to sell local produce, including the famous mountain cheeses oscypek and bundz, as well as pickled cucumbers, sauerkraut, homemade pies, and thousands of other choices. You can also find specialties from Italian, Spanish, Greek, Turkish, and Hungarian kitchens, thanks to the many sellers who hail from these countries and contribute to the local multicultural character of Krakow.
Small shops offering a variety of products bring almost-forgotten-in-time recipes back to life, and for Poles and tourists alike, this is a paradise of colourful folklore. On Saturdays, local musicians play in the market.
Market Hall
"Targowac" has a lot of meanings in Polish: it means negotiating the price and coming an agreement, as well as the overall experience of simply buying and selling. Origin of hall name (located close to main train station) gives perfect explanation to what could be purchased here: from groceries, flowers, herbs, domestic articles all the way to clothing. On Sundays, you can witness typical flea market where treasure hunters maybe overwhelmed with originality of products.
You can expect to find authentic antiques here, everything from clocks to paintings to candle holders, and occasionally even old clothing, shoes, torn books, and cassette recordings delivered straight from PRL communist times. The biggest attraction, however, is blue Nyska car, from where you can purchase fried sausages and chemically coloured orangeade that tastes like childhood.
And because the market is located between the train station and the Opera House, it's a great spot for people-watching — everyone from gentlemen in suits and ladies in dresses, to travellers lugging backpacks and train station staff. The overall atmosphere is best expressed in the Polish movie Angel in Krakow by A. Więcek. I would highly recommend both: Polish fried sausages and the movie!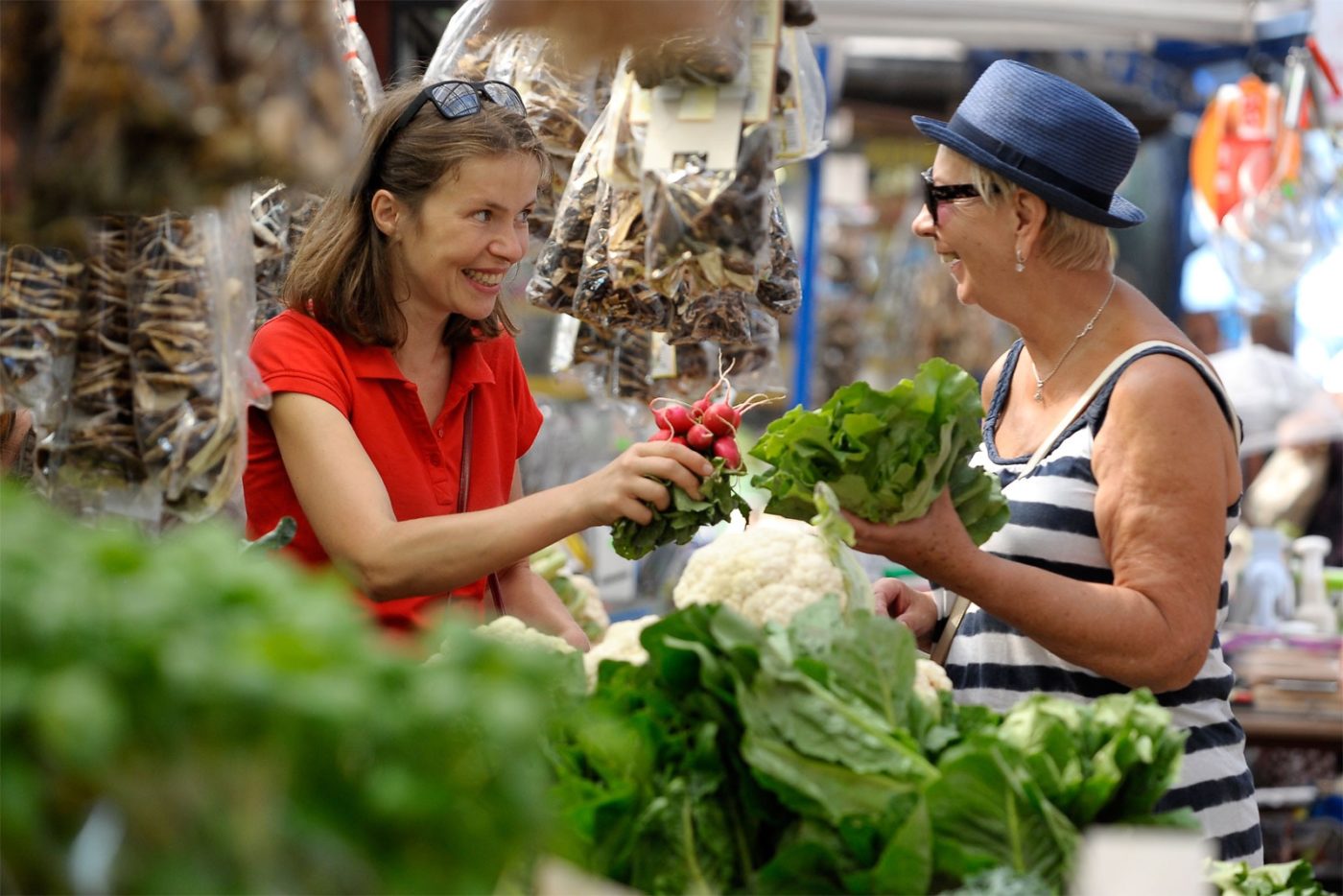 New/Jewish Square
The name of this market comes from New Square (Plac Nowy) and the Jewish community in the Kazimierz district. The market has long catered to Orthodox Jews, and in the early 19th century, it served primarily as a poultry slaughterhouse. But times have changed and today the market is the centre of the entertainment district. At night, join the colourful crowds hopping from place to place and grab a local beer or browse the vodka selections. For food, fried sausage and cheese are popular treats around here.
For some local flavour, order a zapiekanka – a very popular sandwich made from an elongated baguette topped with mushrooms, cheese, and anything else you want, or stop into one of the many small restaurants or coffee shops in the area.
On Sundays there's a small flea market selling both new and used clothes, as well as cosmetics and sweets.