Iced coffee? Or maybe some local beer in a traditional mug? All while taking in incredible city views? Sounds like a great afternoon to us!
Locals in Krakow know that drinks, meals, and sweet snacks taste best when they're enjoyed with a view, which is why the city's got a few cafés that serve a dose of scenery along with their menu.
Cafe U Romana
Located on Sw. Tomasz Str., on the Music Academy School terrace.
Cafe U Romana is a place for anyone who's curious to get a little taste of communist times. The café is on the 7th floor, and the minimalist approach means a small menu that's entirely in Polish. Payment is cash only and the service is cafeteria-style. But the city view is simply stunning and the place has a vintage throw-back Soviet vibe.
Cafe Pasja
Located right in the National Museum of Sukiennice (Cloth Hall), but you don't have to pay the entrance fee to access the terrace.
Countless umbrellas protect you from sunshine. The coffee and sweets are among the best. And the view is fantastic. Everything in the city can be seen from a different perspective at Cafe Pasja: the whole of Main Square with Mariacka Basilica, St. Wojciech Church, and the Adam Mickiewicz monument (he is considered one of the greatest poets of Polish literature). Snap some Instagram-worthy photos of mascarons and all the other interesting architectural details of Sukiennice.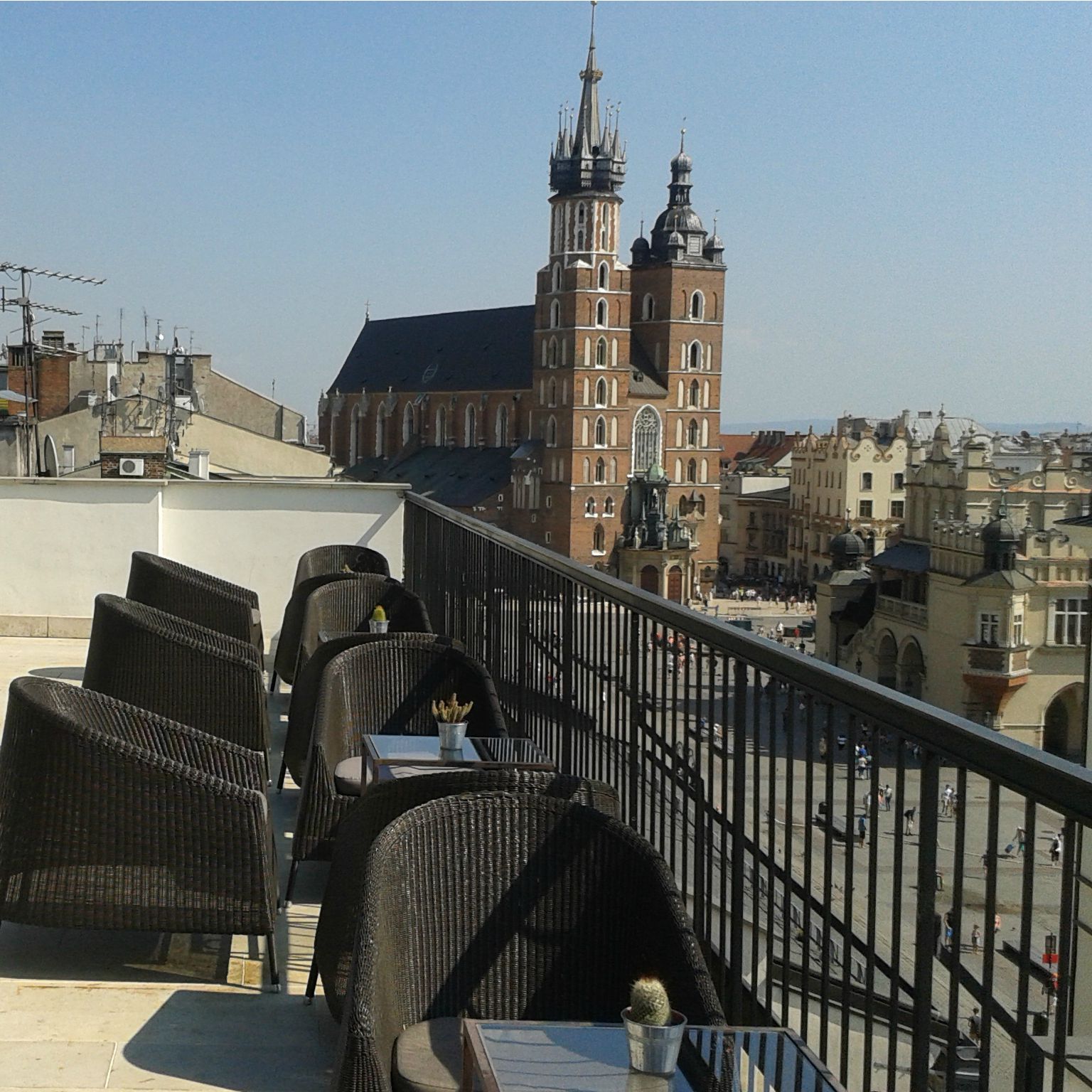 Sky Bar
Located on Szczepanska Str.
Take an elevator to the sixth floor of Stary Hotel to admire amazing city panoramas from Sky Bar. You can spot the roofs of old townhouses with their picturesque chimneys, part of Main Square, and even Szczepanski Square with the Art Palace. Best culinary pick? Sky Bar's tasty coffee, but they also serve many alcohol-based options. The only downside of this place is the lack of umbrellas (but who would mind if the weather is just right?).
Garden Mleczarnia
Located on the roof of the Jewish Culture Center at Meiselsa 17.
Garden Mleczarnia is quite unusual in that it's a bit hard to find despite being in a neighbourhood of bars, restaurants, and dozens of cafés. Yet hardly anyone suspects that this charming place is just around the corner — without any hints, it would be a challenge to spot this gem. But once you're up here, a view of the Kazimierz district (the Jewish quarter) is right in front of you. If the garden and view aren't enough for you, just add in the best nut cake in Krakow (or possibly even the world).
Hungry for Krakow? Let us show you around the city like a local!