Safety
Krakow still has a long way to go before you could consider it LGBTQ-friendly. Poland is a formerly communist country that missed out on the sexual revolution of the 60s and 70s; the Catholic Church has been a dominant voice on domestic policy for centuries, hence why same sex marriage is still illegal. Violence towards the LGBTQ community is not uncommon unfortunately, so it's best to remain discreet and avoid public displays of affection with your other half while you're in public.
Thankfully things are changing slowly, in recent years the Polish electorate voted in its first gay and transsexual MPs, marking a significant shift in public opinion towards the LGBTQ community. The gay scene in Krakow, Warsaw and Poznan is beginning to emerge from the underground, while May has been declared 'Queer Month' and it was estimated that more than ten thousand people attended Krakow's Gay Pride event in 2019. Things have improved a lot in the past 10 years but there's still a long journey ahead…
Nightlife
Cocon Club
The Cocon Club was the first and is still the best known LGBTQ+ community club and disco in Krakow located in the vibrant Kazimierz neighborhood at the bank of the Vistula river. There is free karaoke every Friday at 8 p.m. and a disco every Saturday night from 10 p.m. (entrance tickets about 3 EUR)
Lindo Bar
Lindo Bar is a fun place in the heart of the city centre, close to Florian's Gate, to enjoy a beer or a cocktail, dance and listen to music with friends. There's a friendly vibe that welcomes everybody and prices are cheap.
Club Cabaret
This massive Kazimierz-located club packs plenty of atmosphere, with an interior style reminiscent of the 1920s/30s and a promise to provide "something for the soul and for the body." Club Cabaret offers a dance hall, bar, restaurant and music space with regular theme nights featuring magicians, burlesque dancers and drag queens. Amateur musicians perform alongside more established acts, creating positive vibes throughout.
LaF
This straight-friendly lesbian femme club is hidden away on Plac Wolnica, close to the river. You'll need to walk through Cafe Młynek to find the entrance. Drinks are cheap and staff are friendly. There's a smoking room too, which takes you back to the 1990's.
Sightseeing & Things to Do
See Krakow's historic sights and hidden treasures with a local by your side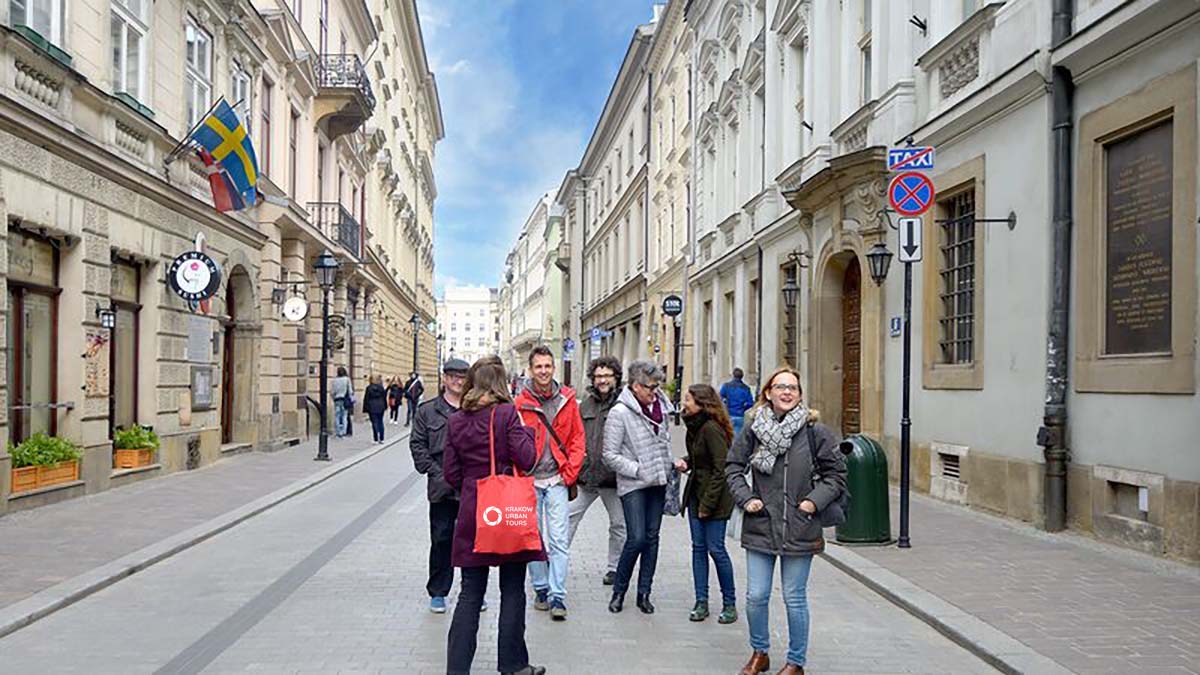 There are A LOT of cultural and historic treasures in Krakow, be efficient and see them with a local guide. Urban Adventures' Royal Krakow – The Local Way offers intrepid city explorers the chance to 'walk the royal road' and admire astonishing fairytale buildings, sample fruit liquors at a hidden bar, and enjoy a meal at a locals' favourite rooftop restaurant with stunning views across the beautiful old town. If you're looking for something a little different, check out our
for inspiration. One of our favourite tours is the Made in Krakow Shopping tour where you will discover Polish culture through our handmade products! Together with your local guide, we'll take you to lesser know neighbourhoods to meet some of the most talented artisans in the city, see the art they're making for a living, hear the stories behind their crafts, and go home with a piece of Krakow in your pocket!
Eat Sunday brunch at BAL
BAL is a great LGBTQ friendly pub located in an old factory on Slusarska Street in the industrial part of Krakow, very close to the MOCAK Modern Art Museum. They serve delicious breakfast every Sunday and the best coffee in the neighborhood. From time to time they organise film screenings, meetings with interesting people, lectures and many other activities aimed at various communities around the city, including the LGBTQ community, so be sure to check out their Facebook page for upcoming events. They're open every day between 8 a.m. and 9 p.m.
Show your support Krakow's first LGBTQ choir
Krakowfonia is Krakow's first LGBTQ choir (and the second in Poland after Warsaw beat us to it!). The choir is ultra inclusive and is open to everyone. They perform regularly, with rehearsals taking place twice a week.
Browse the books and enjoy a coffee at Ogniwo
A creative space that was conceived by open minded Krakow residents that's open to everybody, Ogniwo is a friendly joint on Paulinska street made up of a cafe and bookstore and the team here regularly organise lectures, performances, exhibitions and many other activities, aimed at connecting people and showing off their uniqueness.
Admire Polish art
Talented, young Polish artist and scientist – Krzysztof Marchlak currently has an exhibition at the Off Frame Contemporary Gallery called 'I Will Give You My Heart' which tackles gender issues. Photo credit: Off Frame Gallery
Off Frame is an LGBTQ friendly gallery of modern art where you can see temporary exhibitions of creative and independent, Polish artists. We highly recommend a visit to the small Literacka coffee-bookshop, hidden amongst artworks. The Off Frame Gallery recently ran a beautiful photo exhibition designed by talented, young artist, scientist and proud member of the LGBTQ community, Krzysztof Marchlak, called 'I will give you my heart.'
Visit the LGBTQ Cultural & Community Centre
This brand new community centre in the south of the city opened in June 2019 and will provide support to the LGBTQ community in the form of regular events, mental and physical health services, legal advice and educational resources. Dom EQ have plans to host a regular series of talks on queer literature, as well as film screenings, workshops and exhibitions, so make sure you check out their website to find out what the latest happenings are.
Uncover the stories of LGBTQ prisoners who were held at Auschwitz
The infamous Nazi concentration camp is only one hour by car from Krakow. It's a grim and sombre experience which isn't for everyone but it's so important, may be now more than ever, that we never forget what happened here. Entrance is free but it's strongly recommended that you go with a guide who can help you make sense of the place. The Krakow Urban Adventures team have organised several private LGBTQ-themed tours of Auschwitz that help to uncover the heartbreaking stories of the prisoners who were forced to wear a pink triangle during their time in the camp. If you would like more information check out this Attitude article. If you'd like to organise a private tour of Auschwitz, please contact the Krakow team.