---
Planning a trip to one of Europe's Christmas Markets this year? Year-round, local markets are the best place to get a taste for local life (literally, since you can scoop up tasty snacks as you browse!). But at Christmas time, markets become so much more than just a place to shop — they become magical winter wonderlands filled with tasty cold-weather treats, seasonal souvenirs and enough holiday cheer to keep you grinning all the way into the new year. Here are 8 of Europe's best, along with our local guides' picks for what treats to eat, what drinks to sip and what souvenirs to shop for. Ho ho ho!
---
Vienna, Austria
If you want to escape the typical Christmas Market crowds in Vienna, head to the Christmas Market at Altes AKH. Located on the grounds of the city's historic general hospital, it's tops when it comes to atmosphere and layout. With its park setting, it feels removed from the hustle of the main city streets, and it attracts fewer tourists than the more famous Christkindlmarkt on the Rathausplatz. On our Christmas Markets of Vienna: Punch & Gingerbread tour a local guide will lead you to some of the smaller, off the beaten track markets that locals visit to stock up on gifts and ingredients for festive dining. Try festive sweet treats and a traditional baked potato as you browse pretty market stalls surrounded by Biedermeier houses covered in twinkly lights.
What to eat and drink
Warm up your insides with mulled wine and punches (particularly those made with a popular local rum called inländer). Bauerngröstl, (a hearty type of hash) and sweet kaiserschmarrn (shredded pancake) are other must-try dishes at Christmas time. If you happen to be in town on 25th December, it's likely you'll be eating carp or goose for Christmas lunch. The Schlumberger Blanc de Noirs Brut Reserve won a Gold Medal in the gastronomic category at The World's Finest Glass of Bubbly Awards last year, so if you're in town to celebrate (and blow the budget a little), make sure to add it to your wish list.
What to buy
The Vienna market stalls offer hundreds of amazing handmade seasonal gifts such as felt bags, eccentric woollen hats, creative jewellery, ceramics, glass and wax creations. Chocolate is a great way to tell friends and family how much you care! There are loads of options to choose from but our favourite is Zotter; an ethical chocolate producer whose flavour creations will truly blow your mind. You can find them at the Naschmarkt (handy tip: a small selection of their chocolate is also stocked at the airport and at selected fine food purveyors). Viennese wine has been piquing the interest of vino fans recently and it's easy to see why, the dry Gruner Veltliner grape is well worth your attention, a bottle of which would make a great gift for wine loving loved ones. Take a wine tour with us and discover some of the region's top vineyards and find out why they're taking the wine world by storm.
Budapest, Hungary
Christmas and Christmas markets are a big deal in Budapest! The markets usually start from November 25 and run to December 30. There are two major markets — one is on the city's main square, Vörösmarty Square, and the newer second one takes place in front of St. Stephen's Basilica. There is also an ice skating rink where kids can skate for free.
Another very exclusive and pretty Christmas market has started up in the last few years, inside the Gresham Palace (today it is a Four Seasons hotel). This building is worth a visit even without the market, but altogether makes for a wonderful experience. Another good Christmas market is at the main square of Óbuda, on the Buda side of the river. This is a real gem and an off-the-beaten-Christmas-track place.
Experience Budapest at Christmas on our Merry Markets and Mulled Wine Tour >
What to eat and drink
The best part of this season is, of course, the hearty foods and drinks! As Hungary's winter is long and very cold, locals pull out all the dishes that warm the insides. When you are at the Christmas market, smell alone will guide you to things to eat, but let us tell you what a Hungarian person would never miss on a market trip: stuffed cabbage (we love it). Sauerkraut is filled with minced meat and rice, cooked for a good two hours, and then served with sour cream and bread. Another choice could be a good smoked sausage/liverwurst or black pudding with mustard and bread.
If you are looking for a vegetarian option, we highly recommend tócsni, which is a flat potato bread served with sour cream. Kürtös kalács, better known as chimney cakes, are a definite choice when you want something sweet to eat. And a typical Christmas cake in Hungray is beigli, a rolled-up cake filled with either walnuts or poppy seeds.
When it comes to drinks, hot red and white wine is available everywhere. Or you could just have a shot of plumb or apricot pálinka that will warm you up just the same.
What to buy
Mézeskalács is our gingerbread! It's handmade and decorated with Hungarian designs, and makes for a nice gift. Other gifts could be handmade Hungarian pottery. If you're looking for ethical gifts check out one of the many new eco pop-ups that have sprung up around the city. Our favourite is Medence Group Art for handicrafts. For more tips on the best shopping and souvenirs to buy in Budapest, check out local guide Livia's handy lowdown on the best treasures, treats and hidden shops of Budapest.
Bratislava, Slovakia
In Bratislava, the Christmas markets usually take place at the main square just next to the medieval town hall and Hviezdoslav's Square, in front of the famous Carlton Hotel. But for the past two years there have also been stalls in front of Bratislava Castle, where there's enough space for a live nativity scene. However, our pick for the best spot to shop is in a small square hidden behind the town hall (it's also where our new Bratislava-Vienna combo tour, A Tale of Two Cities, passes through!). It's the best place to get away from the crowds, soak up the atmosphere and browse the traditional artisans' stalls over a glass of wine or typical Christmas punch.
What to eat and drink
Grab a warm mulled wine paired with our most favourite nibbles of the whole advent: traditional Slovak lokše filled with various fillings (both sweet and savoury) or cigánska pečienka (pork cutlets) on a roll. The beer culture is strong in Bratislava, stalls offering beers from local breweries are very common. If you want to know more about beer in Bratislava and discover some new, exciting brands, join us on our Bratislava By Beer tour.
What to buy
Anything you buy in the market will support local businesses and artisans, who actually create the products in front of you. Or you can always go for a traditional bottle of Slovak spirits like Borovička or Slivovica. That is never a bad decision.
Bucharest, Romania
Bucharest marks the winter holiday season with the festive lighting of the city and the opening of the Bucharest Christmas Market. The Winter Festival of Lights starts on December 1 (which is also Romania's National Day), when the main boulevards and the entire city centre are lit with millions of colourful and surreally beautiful LED lights. The Christmas Market is one of the most exciting events at this time of year, and both locals and travellers enjoy the magical look of Constitutiei Square.
So what can you expect? A 30-metre-high Christmas tree, an ice skating rink, and jolly Santa himself, who wouldn't miss the Bucharest Christmas Market for anything! If you're looking for one-of-a-kind Christmas decorations or traditional souvenirs, this is the place to be. Also expect some entertaining shows and lots of carol-singing to spice up the already lively atmosphere.
What to eat and drink
There will be a lot of mouthwatering traditional goodies displayed at the charming wooden stalls, so you'll have plenty of choices. From homemade bread to traditional creamy cheeses and smoked meats, to preserved delicacies and decadent desserts, the options will tempt any foodie. Delicious mulled wine with sugar and cinnamon has to be the star when it comes to preferred drinks. But if that doesn't warm you enough, try a shot (or two) of boiled tuica or palinca — this is only for the strong-hearted; you have been warned.
What to buy
Handmade Christmas decorations, authentic souvenirs, traditional clothes, handicraft accessories, homemade goodies, traditional baked goods and locally made gifts and toys.
Other #localsknow tips
The Bucharest Christmas Market takes place from December 1 to December 27, but you are only able to meet Santa from December 16 to 24, from 11am – 1pm, and 5pm – 10pm. (You know, Santa has to break to feed the reindeers.) There are also creative workshops where you can learn how to make handmade decorations, or you can just watch the artisans at work.
The best time to attend the fair is in the late afternoon, so you can have just enough time to get a closer look at the 100 booths, grab something to eat and drink (the queues are usually big) and still enjoy the concerts starring some of Romania's biggest artists. Remember to dress warmly.
Copenhagen, Denmark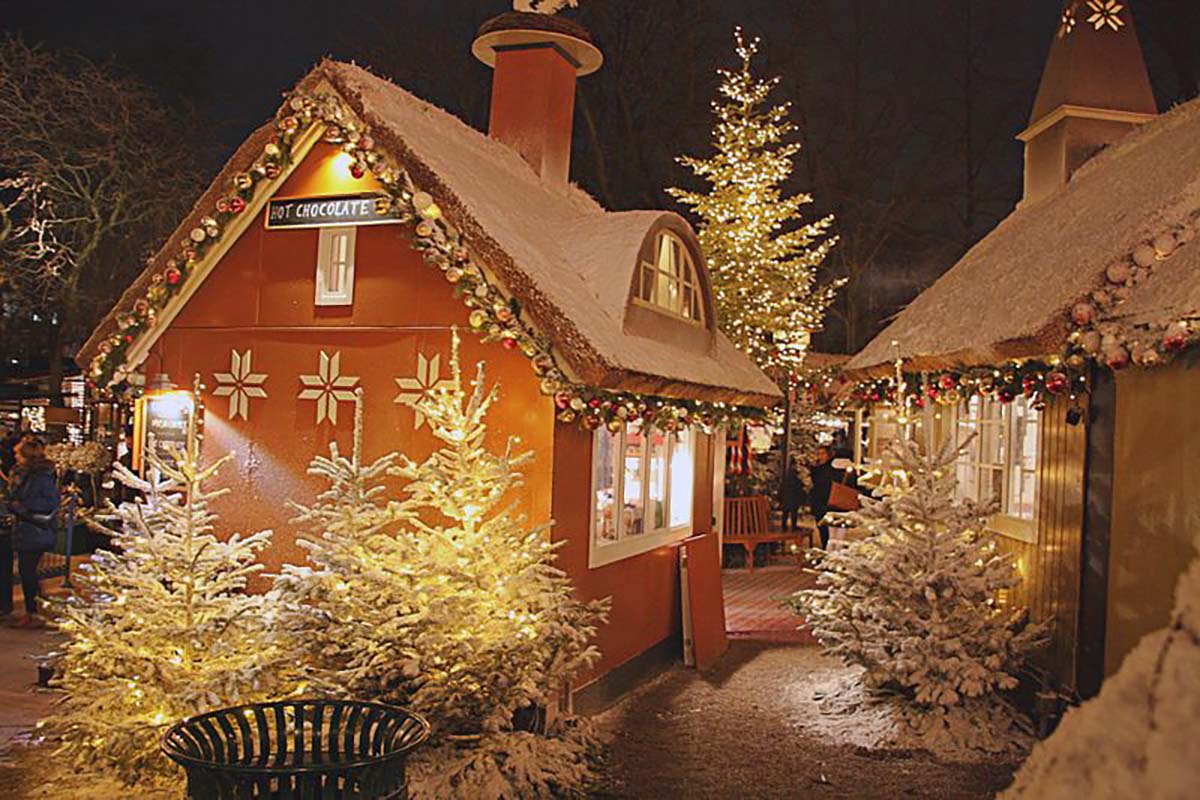 In the heart of Copenhagen you will find a Christmas market at almost every corner. They open in mid-November and most of the markets close December 22; but our favourite is located inside the second oldest amusement park in the world, Tivoli Gardens, and is open until December 31. It's hard to determine just why this is our favourite, but it's maybe because we have grown up with Tivoli's Christmas decorations. The park always makes a huge spectacle out of it and there are thousands of lights, snow and smiling faces all around, which just makes for a truly magical atmosphere that is indeed worth the 120 DKK entrance fee.
What to eat and drink:
We recommend trying Danish Christmas favourites like æbleskiver (the Danish version of doughnut holes — originally, they had a slice of apple in them, hence the name that means 'apple slices') or sugar-roasted almonds, which can be found on every busy street corner during winter (plus, the sellers often give out samples!). Other holiday treats are honningkage (soft gingerbread cake shaped like a heart and covered with chocolate) and risengrød (rice pudding topped with cinnamon and butter, often combined with a sweet, dark ale with a low alcohol percentage so even kids can have it). Risengrød is often eaten for dinner throughout December and leftovers are put in the attic for the house elf.
To quench your thirst, go for the classic gløgg or æblegløgg (Danish gløgg consists of wine and either rum or cognac), which often contains raisins and almond slivers in the bottom. You can also find white gløgg and options infused with apple.
What to buy:
While you feast on the delicious Danish Christmas treats, hunt down a calendar lit with numbers from the 1st to the 24th of December, so you can count down the days to the big Christmas Eve. We use it at home as a way to remember to sit down and take out time for hygge with one another throughout the best month in the year.
The calendar light should not stand alone, though. Gather your loved ones and head to the woods like a true Danish family to collect some items (leaves, spruce cones, moss!) that you can use to make Christmas decorations together. Or hunt down small fancy ornaments in many of the special Christmas pop-up stores, which you can use to decorate the tree. Christmas is when Danes gather and use every excuse to find hygge — Tivoli's Christmas Market has everything you need for that.
Other #localsknow tips:
If you're looking for a more off-the-beaten path market, head to Christiania's Christmas market, which stands in stark contrast to the usual markets. It takes place inside the comforts of a hall from December 6 to December 20, and is a great place to experience the atmosphere of old friends meeting and bonding. Plus, you'll most definitely be able to find some nice Christmas souvenirs to take home with you.
Krakow, Poland
Christmas is the most celebrated holiday in Poland, and the Christmas markets are the perfect place to feel the magic of the season while spending time with friends and family. Every year, for all of December, the Krakow Christmas Market opens at the city's main square of Rynek Glowny. It is a place for admiring (and buying!) handmade Krakow gifts, listening to Christmas carols, and snapping photos of gorgeous winter decorations.
Greet the season in Krakow on our Christmas Market and Flavours Tour >
What to eat and drink
If you want to be as traditional as Poles, you should try all 12 dishes served on Christmas Eve, symbolising the 12 apostles as well as the 12 months of the year. If that seems like too much, then just try some soups, dumplings and traditional sweets. Although there are hundreds of soups in Poland, for Christmas it is either beetroot soup with small mushroom-filled dumplings (uszka) or mushroom soup with noodles. Pierogis (dumplings) should be with sauerkraut and mushrooms. For dessert, find a huge piece of a poppyseed cake, which we say will bring you money and luck, or grab a beautifully decorated heart made out of gingerbread for love and happiness.
While you're wandering around the market, look for big brown barrels with a yellow sign reading "grzaniec galicyjski" (mulled wine) and grab a drink with the locals. This special winter wine is served hot, and is very aromatic due to the addition of honey and a mix of spices like cinnamon, cloves and cardamom. For abstainers, we have another great proposal: hot chocolate. The best hot chocolate in the heart of Krakow is at the Wedel chocolate fountain at 46 Main Square.
What to buy
Krakow is paradise for fans of handicrafts, there's a strong sense from local of wanting to keep those old traditions alive, which is excellent news for gift hunters! Ceramics, jewllery (amber is a popular choice), fruit liquors to suit every palate, chocolate and lots more. Check out our local guide Monika's guide to picking up authentic, locally-made gifts and souvenirs in Krakow. If you're looking for a more personalised gift experience join us for our Souvenir-Making Workshop tour which offers you the chance to learn more about Polish culture as you make your own Polish doll, complete with traditional clothing! The best thing is, you'll be helping a local NGO who support the homeless in Krakow as proceeds from every tour are donated to them.
Other #localsknow tips
If it's too cold to spend long hours wandering around at the Christmas Market, then work up a sweat by joining some locals for a bit of Krakowiak folk dancing (buy a traditional mountain leather hat and gloves to wear, for the complete experience). If being outside is too much, you can always hide indoors at one of the many restaurants and bars located all around the Main Square, and just wait for spring to come.
Prague, Czech Republic
In Prague, there's one classic fairy tale market that has put us on the Christmas market map. We're, of course, talking about the Old Town Square Christmas Market, with the Czech national Christmas tree and a spacious stage for various concerts and performances. However, it's also where you will be barely able to walk because of all the people who come to admire this beautiful market. We recommend that instead of going early in the evening (when everyone else also goes), come much later at night, when most of the stands are closed (don't worry, some will still be open) and the atmosphere is breathtaking.
In the late afternoon, go to the lovely Christmas market at Náměstí míru (daily 10 am – 7 pm), where locals all go for great quality Christmas goodies. Or if you want to venture even a bit further from the city centre (and by that we mean barely a five-minute metro ride), check out the two cute markets at Náměstí Jiřího z Poděbrad and Tylovo Náměstí (both daily 10 am – 7 pm). All of them are accessible by the A (green) metro line at Staroměstská, Náměstí míru and Jiřího z Poděbrad.
What to eat and drink
At all Christmas markets, you can try Pague ham or sausages, Czech Christmas cookies, traditional gingerbread, waffles and roasted almonds (we really recommend roasted almonds!). And of course, don't forget to get a mug of mulled wine, punch or hot mead. If you get so charmed by hot wine that you want to drink it even after you've returned home, don't worry, we've got you covered with this mulled wine recipe.
What to buy
Pick up some beautiful glass ornaments for your Christmas tree, or paper or wooden carved crèches with figures from Czech folklore at the nativity scene (you will find musicians, masons, laundress, wood-cutters, and more) — this has a very long tradition in the Czech Republic and is very different from other countries' nativities. You will also find a great variety of handmade lace tablecloths and placemats that will make your table look amazing at all occasions (why save such beauty for Christmas only?!).
Other #localsknow tips
If you have some time to spare, visit also one of the many Crèches exhibitions that are all around the city. We recommend the one at the Charles Bridge Museum with an amazing straw nativity scene, or the Žižkov Nativity Scenes with unique figures associated with the Žižkov district, including the legendary good soldier Švejk.
Zagreb, Croatia
Zagreb ADVENTure (see what we did there?) is one crazy rollercoaster with more than 25 Christmas markets spread across the city, each with its own theme, unique food and drinks, and enchanting atmospheres. This year's program is bountiful, with so many shows and concerts (and all of them for free!). Combine that with plenty of mulled wine and rum punch that pours like waterfalls, and you can be sure that your spirits will be lifted.
One of our favorite places to check out is Vraniczany Plateau, a fairy tale location in Upper Town where you can enjoy delicious food while enjoying the background music performed by classy jazz musicians and great DJs. Also worth visiting is Fooliranje, which literally means 'fooling around' (or 'picking up' in old Zagreb slang) and is the ultimate place to mingle with locals and appreciate what Zagreb is truly about. Situated this year at Strossmayer Square in the heart of Zagreb, between Zrinjevac and Tomislav squares, the place is filled with entertainment, food, magic, dreams and, above all, a lot of fun. Your ears, eyes and palates will be astonished by so many interesting, funny and original local and international flavours, people, music, circus life, clowns, fire-eaters, stilt walkers and other fascinating characters.
For a bit of romance, Ice Park is a magical outdoor winter wonderland, enriched with the fragrance and flavours of culinary delights, as well as numerous cultural events for both children and adults. And don't worry if you've never put on ice skates in your life, as there are instructors you can hire. It takes place right between the Art Pavilion and the statue of our first Croatian king, Tomislav.
What to eat and drink
Apart from the traditional winter foods consisting mostly of pulled pork, potatoes, cabbage, sausage and dumplings — which you'll find pretty much on every corner — make sure you try the gourmet street food stalls at Strossmayer Square. Zagreb has recently experienced agastronomic revival, and the culinary scene is simply bursting with new ideas. If you're in luck to meet up with locals and perhaps get invited for a home cooked meal, there is one winter dish that is simply the queen of them all: sarma. Minced meat and rice with spices are wrapped sauerkraut leaves, with mashed potatoes on the side. Yummy!
Zagreb gets cold in the winter just like any other central European city. The easiest and most popular way to stay warm is by staying hydrated, but be sure to follow the divine example and turn your water into wine — mulled, of course, which will be hard to miss.
What to buy
Gingerbread hearts (with a small mirror) and other handmade Croatian products such as lace (Croatia's lace is protected by UNESCO as an Intangible Cultural Heritage of Humanity) or a necktie cravat. Or, just buy some traditional sweets to take home; we recommend fritule (a doughnut-like pastry with a variety of toppings, like cinnamon and sugar, chocolate and stawberry jam), packages of candied bitter orange peels, and walnut or poppy cake.
Other #localsknow tips
The magic of Zagreb Advent begins with the first day of advent and lasts until January 7. City trams and buses are completely free of charge on Fridays, Saturdays and Sundays. If you need any extra info about the Christmas market you can visit the official website.
For a super modern Christmas tale, head to the Gric Tunnel. Light shows in 3D with music, christmas trees, ice formations and other winter wonders make for a seasonal spirit like never before. No need to look for the light at the end of the tunnel.