It was the first day of December, the first day of Krakow's Christmas Market, and, as luck would have it, the coldest day we'd had all week.
I had looked forward to visiting the Krakow Christmas Market for months, but when my alarm went off that morning (and I checked the temperature), that excitement began to fade. I dreaded getting out of bed, but somehow managed to peel myself away from the warmth of the covers anyway.
I piled on multiple layers and asked my boyfriend, "Will the market even be open yet? Surely, no one will be there yet, right?" I wondered why our tour had to have such an early start… but only because I longed for just one (or a few) more hours of sleep.
You see, I'm really not a big fan of winter. I'm similar to a bear in that I would much rather be hibernating… but, alas, I am not a bear… so I sucked it up, ate a quick breakfast, and we headed towards the Main Square to meet up with our tour group.
Our guide Monika greeted us with a smile so warm and a demeanor so welcoming that I almost forgot how cold I was. Almost. Turns out, it was just going to be the three of us.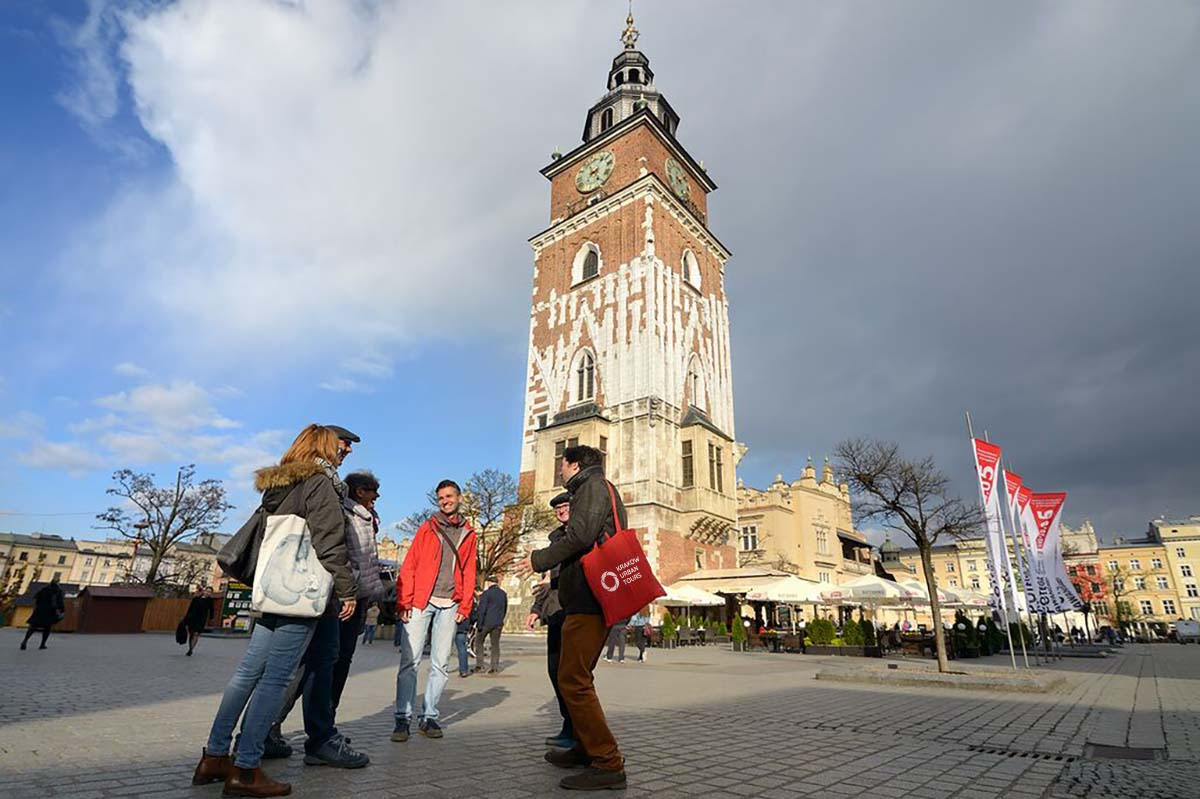 Monika was cold, too, so we ducked into a little underground café beneath the Town Hall Tower. She briefed us on our tour schedule and offered us a morning mulled wine… because nothing warms the body (or soul) like a boozy beverage at 10 a.m. We did some language learning, too. Cheers in Polish is "Na Zdrowie." This would come in handy throughout the day.
"I love the holidays," I thought as I took my first sip. "I love this country," I thought on the second, and "I think I'm going to love this tour," on the third. By the last sip, I wasn't cold anymore, and, just like that, it was time to go out and brave the elements again.
On our way to the Christmas Market, Monika walked us through the Old Town's Renaissance Cloth Hall. She has lived there for the past 15 years and really knows her stuff about the city. She told us all about the different vendors and their products, what is sold there during the rest of the year, and the history of the Hall itself.
We soon arrived at the Christmas Market, which, despite the early hour and freezing temps, was already buzzing with people. Christmas music filled the air, and the wooden stands were open for business.
Each one sold something different – fun socks, colourful ornaments, wooden toys, furry winter hats… but, my favourites were the stands selling food. It wouldn't be a Christmas Market without food.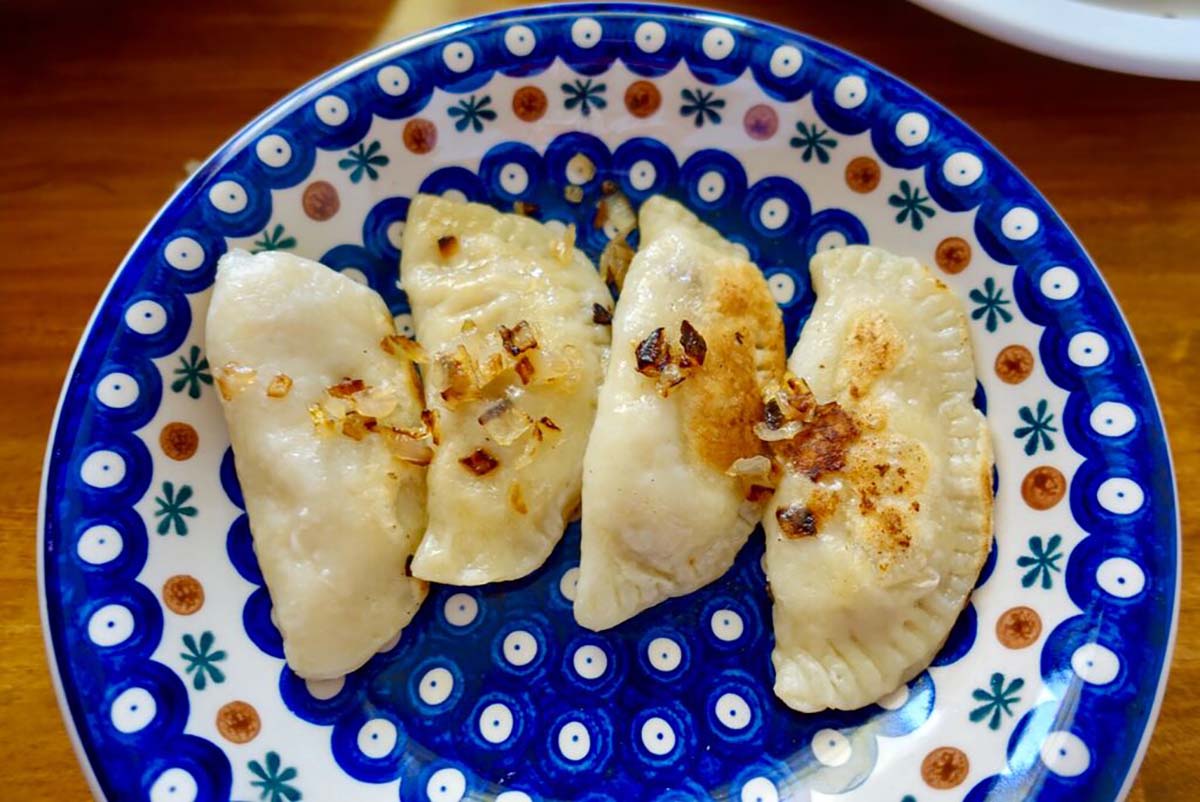 As we made our rounds, the delicious scents of dishes I'd never seen before tempted me almost as much as the barrels (yes, literal massive, wooden barrels) serving up mulled wine. I would have had another cup… but Monika suggested we try something different, because, in Krakow, mulled wine isn't the only beverage that gives Christmas Market goers those warm, fuzzy feelings. Holiday cheer is also maintained thanks to other hot drinks like vodka… and beer.
After deciding we would give the hot beer a try, Monika took us to another underground bar called Piwnica Pod Baranami or "Cellar Under the Rams." Once the most famous cabaret in Krakow, it now serves up two popular flavors of hot beer – ginger and raspberry. I was very much unsure how I felt about the whole hot beer thing, but I'm a big fan of ginger, so I went for it anyway. Would you believe me if I told you it was delicious?
Turns out, underground bars, cafes, clubs, and restaurants like Cellar Under Rams are really common around Krakow. We drank our (surprisingly tasty) hot beers, and Monika told us more about Poland's Christmas traditions.
I found it so interesting learning about how Germany, the Soviet Empire, and other historical influences have impacted the country's holiday traditions over time. It was even more intriguing Monika's stories about how she and her family have celebrated. We learned that carp is eaten on Christmas Eve, and that, for a time, the fish was so difficult to find that Monika's family kept a live carp in their bathtub leading up to the meal… a pet which mysteriously disappeared just before Christmas.
Soon it was time for a pre-Christmas meal of our own… but instead of carp, we had pierogi followed by Poland's most traditional dish, soup – beetroot soup. We ate our delicious meal in a festive corner of the Green Balloon, another historical restaurant, which was the perfect end to our tour with Monika.
That evening once the sun went down, though our tour had ended hours before, Andrew and I returned to the Main Square. It was our last day in Krakow and we wanted to experience the magic of the Christmas market at night. I now understood why our tour had started so early – It was absolutely packed. We could barely walk through for all the crowds.
We found a spot in front of the stage by the Christmas Tree, and waited with the masses for someone to press a big red button to light it up.
Finally, a man took the stage and invited all the children in the crowd to join him. He called for a count down from ten, which one of the eager kids took this as his cue. He excitedly pressed the button a bit too soon, the tree lit up, and everyone burst into laughter.
The woman beside me turned to me with a smile on her face and said something in Polish. I'm not sure what it was but I laughed, too.
It was the coldest day Krakow had seen all week, and the most magical, too. Turns out, this timeless Polish Christmas Market is worth not hibernating for.